In this issue:
Director's Reflections - by Jan Adrian, MSW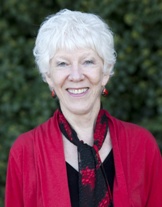 Dear Friends,

Just like Cost Plus World Market travels the world so you don't have to, I travel to conferences around the country to find resources for you. Last week I went to West Palm Beach, Florida, for the fourth annual CAM (Complementary and Alternative Medicine) for Cancer conference put on by the Annie Appleseed Project.
Some of the information was interesting and useful, and I found a few new speakers for future conferences. But what was the most profound for me were the "chance" meetings I had with some incredible people. I want to introduce you to two of them and share with you the extraordinary resources they are creating for anyone touched by cancer.
At 26 years old, Jonny Imerman was diagnosed with testicular cancer and began his journey with the disease. Throughout his experience, Jonny was lucky enough to have loving support from his family and friends, but he had never met anyone his age who was a cancer survivor. He wanted to talk to someone just like him, someone who truly understood, and was intimately familiar with his experience.
In short, he was looking for someone who had already beaten the same type of cancer. This was the beginning of Jonny's vision and in 2003, it became a reality when he founded Imerman Angels, created on the belief that no one should have to deal with cancer alone.
Imerman Angels partners anyone seeking cancer support with someone just like you — a "Mentor Angel." A Mentor Angel is a cancer survivor or survivor's caregiver who is the same age, same gender, and most importantly who has healed from the same type of cancer. A Mentor Angel is walking, talking, living proof, and inspiration that cancer doesn't have to be a death sentence.
This service is free and helps anyone touched by any type of cancer, at any cancer stage level, at any age, living anywhere in the world. At www.immermanangels.org you can sign up to be that walking, talking, living proof to someone else, or to be matched with a mentor yourself.
I also met Jeannine Walston, a brain cancer survivor, and co-founder and Executive Director of EmbodiWorks. With a deep passion to help people affected by cancer, Jeannine's vision for EmbodiWorks is to provide the highest level of support through integrative cancer care education and advocacy. Her goal is for EmbodiWorks to offer the integrity that people with cancer and their loved ones need and deserve. Her personal health care experiences, especially her journey with a brain tumor, enrich her perspective.
The information available on www.embodiworks.org is rich, inspiring, and refreshing. They're not trying to sell anything. EmbodiWorks is rooted in a desire to transform adversity into opportunity to help others through cancer and create positive change.
Both of these organizations are providing services that I longed for when I was first diagnosed in 1989. Even though I missed them, maybe it's a good thing they weren't there or I might not have started Healing Journeys. I'm so glad they are available now, and hope you will find them useful.
Leave a comment, or read comments left by others.
In the spirit of healing,


Jan Adrian, MSW
Founder and Executive Director
www.healingjourneys.org
Watch your mailbox for our annual postal newsletter. If you are on our postal mailing list, you should receive it sometime in March. It's full of news and information!

If we don't have your postal address, give us a call at 800-423-9882 or send us a note here.


We now have a half-page poster for the Telling Your Healing Story workshop, led by Annan Paterson, author and performer of the one-woman show Deep Canyon. Included is a PDF for printing, posting, or attaching in an email to your friends and family. We appreciate your help in spreading the word!

Click to view the poster or for more information about the workshop. Register by April 18th for the early bird discount.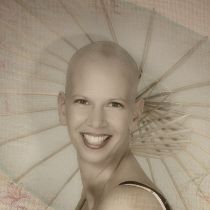 Note: Julie Holabird lives and works in the "East Bay," near San Francisco. She has a wonderful 16 year old daughter, and is grateful for every single day, even the gray, foggy ones. This portrait was taken by her friend, Ruby Rieke.
Sudden Lover
by Julie Holabird
I had a lover during chemo. We began three days after my sudden, unexpected, triple-negative breast cancer diagnosis. We'd chatted before about our lives, divorces, and found we both had daughters: 8th grade, straight A, and determined. I'd always enjoyed him, so when faced with stinging bad news, after a lot of crying, after telling my girl and notifying family, I found myself writing a "not good news" note for friends, and included him in the address list. . . . Read Full Story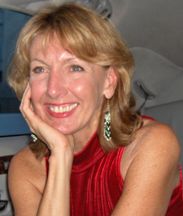 Note: Elizabeth Hess Stamper, LMHC, is a holistic counselor and spiritual teacher in Florida, and has been a student of meditation and yoga since 1972. She has authored a well-received book on spiritual relationships and two meditation CD's, and has been leading workshops and retreats for 15 years.

For her work in helping to create and promote community, Elizabeth was recently given the "Heart of the Community" award by the Brevard Chapter of Conscious Living Partnership. Elizabeth's website is www.ahealingcircle.com.


Obvious Nature
by Elizabeth Hess Stamper
May Love,
So often secret
And shy
Be my obvious nature,
My brazen heart,
My outstretched hand –
Not holding back
. . . Read Full Poem
Fried: Why You Burn Out and How to Revive
by Joan Borysenko, PhD

Reviewed by Lynn E. Fritz, MA


Note: Dr. Borysenko is on the Healing Journeys Advisory Board and has been a presenter at several of our conferences.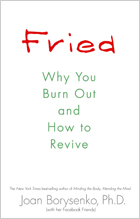 Thought provoking, inspirational and insightful, Fried is a must read for anyone seeking wellness, greater understanding, and healthful living! Melding candid honesty, refreshing transparency, and life affirming spirituality with her expertise as a Harvard trained medical scientist and psychologist, Borysenko has crafted a unique literary work that bridges the fields of science, medicine, research, life, and the sacred.

Joan Borysenko artfully positions Dante's Inferno as a backdrop metaphor to guide readers through an often unconscious mindset of causations and hellish stages of burnout, limbo, and self doubt through exercises of self reflection geared to awaken travelers to their own innermost personal and successful discoveries.

This masterpiece weaves research findings on depression with appropriate use and misuse of antidepressants, the stress-hardy personality, learned helplessness, and the role of trauma as a blueprint to liberate the authentic self. By emphasizing the importance of a healthy relationship to self, Fried beautifully illustrates how burnout is "a preventable and treatable disorder of the soul."

Joan Borysenko reviews symptoms and offers practical solutions to empower readers to transform and heal their own lives. She resources her community of colleagues from multiple disciplines along with her Facebook friends, to transform social networking into soulful networking. She creates an invaluable tool for healthcare providers, patients, spiritual travelers, and anyone suffering from or hoping to avoid the pitfalls of burnout. Especially timely, given the ever increasing incidences of stress related diseases, this work also serves as an invaluable asset for readers to explore ways to enhance spontaneity, energy, joy, and authentic living.

Do not miss this extraordinary opportunity to access the wisdom of a most remarkable woman, a pioneer in integrative medicine and a modern day mystic!


Additional information:
If you purchase this book, we'd so appreciate it if you would use our Amazon Associate link, below, or in the bottom left navigation on our website. Your price will be the same, and Healing Journeys will receive a small percentage of the sale. Every bit helps! Whenever you are buying anything from Amazon (books, CDs, even TVs and appliances), we benefit if you first go to www.healingjourneys.org, click on the Amazon link, and make your purchase.
If you would like to update your Email Information, please click here.