In this issue:
Director's Reflections - by Jan Adrian, MSW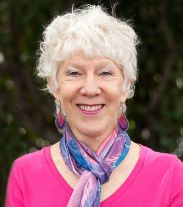 Dear Friends,
On my recent vacation in Kauai it rained a lot, giving me the opportunity to find ways to spend time inside. I enjoyed watching DVDs, and especially appreciated The Living Matrix — The New Science of Healing. It's about how, from a scientific perspective, we can maximize our bodies' self-healing abilities.
This has been a major interest of mine for as long as I can remember. It was the basis of the seminars I taught at the Center for Health Awareness in the 80's. Eventually it was what led me to design the Cancer as a Turning Point, From Surviving to Thriving™ conference in 1994.
My interest continues to grow as science is demonstrating the truth of what has been on the fringe of medicine for so long. We are so much more than our bodies. We truly are spiritual beings on a human path, and true healing involves our whole being.
In The Living Matrix, scientists talk about the information we now have to guide us in activating our bodies' capacity for self-healing. They describe the intricate web of factors that determine our well-being, going beyond what we do to treat the physical.
I was excited to hear the information, and also to be introduced to some of the experts working in this field now. One of these experts is Marilyn Schlitz, PhD, President and CEO of the Institute of Noetic Sciences (IONS).
Marilyn will be one of the speakers at the Cancer as a Turning Point™ conference in Napa Valley on September 17th. She will share with us some of the research being done at IONS and how it can impact our own individual healing journeys.
To quote Marilyn from her book, Living Deeply: The Art & Science of Transformation in Everyday Life, the resources are now available for you to "actively collaborate with the forces — both internal and external — that conspire to move you toward wholeness."
I hope you will come hear Marilyn at the conference if you can. If you can't, you can order The Living Matrix DVD, or order her book. You can watch a trailer for The Living Matrix here. This information needs to be part of the tool kit for anyone on a healing journey.
Leave a comment, or read comments left by others.
In the spirit of healing,


Jan Adrian, MSW
Founder and Executive Director
www.healingjourneys.org
A big Thank You to those who have contributed to Healing Journeys in celebration of Jan's 70th birthday this year! The 70 day period we chose to celebrate Jan's Virtual Birthday Party has come to a close and we're well below our goal of $70,000. Because we know you understand the value of the information, inspiration, hope, and community that cancer survivors and their loved ones experience at the free Cancer as a Turning Point™ conference, we're asking you to help us continue to deliver this valuable service to anyone touched by cancer or other life-altering conditions.

If you can help with a timely donation, we would be very grateful. Please do what you can to support our free conference, monthly eNewsletter, online resources, and empowering workshops. Your gift in any amount helps. Thank you.




Safe & Secure!
Registration is open for the FREE Cancer as a Turning Point™ Conference in Napa Valley, Calif., on September 17. You can see the exciting lineup of presenters here.
Does your employer match gifts? Do they encourage volunteer hours? We are finding more and more companies are valuing employees' efforts to support their favorite non-profit. Check with your company to see if your donation can be matched or if volunteering has rewards at your job.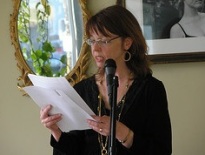 Note: Autumn Stephens edits poems and stories for Healing Journeys. A writer, editor, and facilitator of healing writing workshops, she lives in Berkeley, Calif., with her nuclear family.

A previous version of "Reconstruction" was published in the November 2010 issue of The East Bay Monthly magazine.
Reconstruction
by Autumn Stephens
Nine years ago, I was diagnosed with breast cancer. And suddenly, I had something in common with Dolly Parton and Jayne Mansfield: A lot of people were intensely—and exclusively—interested in my chest. In the course of a dizzying number of medical consultations, I learned to shrug out of my shirt or untie my gown at the drop of a hat. Pavlov's dogs had nothing on me. At the tap of a doctor's footsteps approaching the examining room, followed by a suspenseful silence as he or she paused outside to riffle through my chart, I'd get ready to strip. So a couple of months after my second surgery, when a new acupuncturist—a former Israeli soldier and medical researcher named Isaac Cohen—walked through the door, my fingers automatically flew to the top button of my shirt. "Whoa!" Isaac said, with a soft smile. "Let's get to know each other first." . . . Read Full Story
Note: Sally Blumenthal-McGannon has been a pediatric ICU nurse; a hospice nurse; an AIDS coordinator; and a therapeutic touch practitioner/healer. She's been a group leader at WomenCARE, for women dealing with cancer; and at Kids Konnected, for kids living with a parent with cancer, and for parents of transgendered children. Sally has also been adjunct faculty at Santa Clara University.

She has a private practice and believes in living life with joy. In her free time, she is on the board of directors of Healing Journeys, is a wife and a mother, and she is grateful. She is recovering well from quadruple bypass surgery.
Subject: me and my current update
by Sally Blumenthal-McGannon
why is it that when i am quiet i am fine?
i am sitting on my back deck, listening to birds chirping, jays squawking
kitty chewing on a redwood leaf and pod

the sun is on the plants i have introduced, which flourish
as well as the bluebottles i have planted—spectacular
these were inspired by a trip in seattle with susan

i remind me of those boardwalk rides that cross each others' path
and keep going, barely missing collision but feeling the danger all the same
afraid to feel safe and afraid to get into the fear
because it could be really big
the worst is over and i don't feel swell yet. . . . Read Full Poem
Forward this message to a friend.

If you would like to update your Email Information, please click here.
Honor the ones you love by making a donation in her/his name to
Healing Journeys.
Your donations to Healing Journeys help keep our Cancer as a Turning Point conferences free of charge for those who attend.

Please make a tax deductible donation today to support Healing Journeys and those who need the services we offer.

Safe & Secure!
---

More Information
---
*** UPCOMING EVENTS ***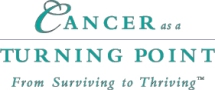 More Information
Presenters
Register Now!
---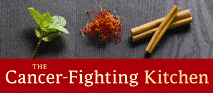 September 23 - Seattle, WA
Oct. 22 - Mountain View, CA
November 4 - Sacramento, CA
---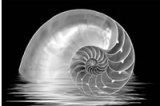 Back by Popular Demand!

Our most well-liked greeting card is again available. These beautiful Nautilus Cards are perfect for any occasion or for simply sending a note to someone special.


---

Click this Amazon icon and Healing Journeys will benefit
by your purchase!




For all other shopping online, click GoodShop first and
Healing Journeys
earns money!

---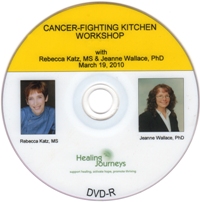 Cancer-Fighting Kitchen DVDs
The Cancer-Fighting Kitchen recorded March 19, 2010
at Santa Cruz, CA Workshop,
with Jeanne Wallace
& Rebecca Katz.

The Cancer-Fighting Kitchen
Question & Answer Session

---

---
Tell a Friend
---