In this issue:
Director's Reflections - by Jan Adrian, MSW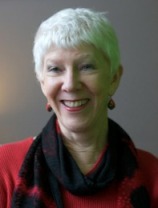 Dear Friends,

Knoxville, Tennessee, was the site of the Cancer as a Turning Point, From Surviving to Thriving™ conference the last weekend in June. It was our first time there so most of the people were virgin attendees. The audience of about 250 was in a comfortable auditorium that had a capacity of 450. They loved it. They said it was awesome and were sooo grateful to have it in Knoxville.

After producing this conference 28 times, I'm pretty familiar with the reactions, but I haven't solved one of the questions that always comes up. People say "This is fantastic. Why aren't there more people here? I know so many people that could benefit from this. I wish I would have known what it would be like so I would have brought them with me. People need this. Every seat in the auditorium should have been filled."

After watching thousands of people experience such deep healing at the conference, I know how beneficial it is. That's why we keep doing it. But I don't know how to promote it in a way that communicates the genuine power of the program. In this age of communication overload, we are flooded with advertisements about lectures, teleseminars, books, and suggestions about what we should do to promote healing. We get overwhelmed and don't know who and what we can believe.

There's a saying that "there's no free lunch," implying that nothing in life is free. Some people think Cancer as a Turning Point can't possibly be good if it's free. The impressive program we have planned for the conference in
San Mateo, on October 9 & 10, is of such high quality that we could justifiably charge $500, but then not many of you could come. We have to keep it free (you still have to pay for lunch or bring your own) to fulfill our vision that EVERYONE touched by cancer or any life-altering illness be empowered to move from surviving to thriving.

If you have attended a Cancer as a Turning Point conference and know what I'm talking about, please help me communicate what attending the conference is like and why people might want to "give up" a weekend to attend. Tell your friends and family about it. Post it on your Facebook page. Send an email to everyone on your list. Invite your doctors and nurses, and ask them to promote it to their patients.

If you find a way to describe your experience effectively, please email it to me by "replying" to this email, or send me a copy of what you are emailing your friends. Or make a video. I just made a 2-minute video about the conference which you can see here. I would love to post videos of some of you talking about your experience of the conference. Please help me reach more people, and discover what we can say about Cancer as a Turning Point, From Surviving to Thriving™ that will let people know it's the real deal and they won't want to miss it.

In the spirit of healing,


Jan Adrian, MSW
Founder and Executive Director
www.healingjourneys.org
The Knoxville conference was awesome! We'd like to share the handouts that were prepared by Jeremy Geffen, MD; Belleruth Naparstek; and Liz Lipski. You can get them from our website. You can also get a DVD of Dr. Geffen's talk in our webstore so you can listen over and over, or send it to a friend.


So many people asked about the music playing during the breaks in Knoxville that we've added Karen Drucker's The Heart of Healing CD to our webstore.


We are happy to announce that registration for the San Mateo Cancer as a Turning Point Conference, October 9th & 10th, is now open!


We are also very pleased to announce that registration for
The Cancer-Fighting Kitchen Workshop in Napa, November 5th, is now open!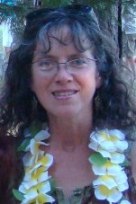 Note:
Lior Jacober is a single Mom, seamstress, prize-winning pie chef, and well on her way to becoming a credentialed elementary school teacher.
She has had lymphoma 4 times, and has survived not only that but: 4 types of chemo, 4 thousand rads* of radiation, living in 4 different states (Ohio, Florida, Upstate New York and now California,) 4 siblings, and more than 4 decades on this sweet planet.
* The unit formerly used to measure the level of ionizing radiation absorbed by something, equal to 0.01 joule per kilogram of irradiated material.
The Namesake

by Lior Jacober
Part One
In 1987, G-d threw a personal plague my way. My B.A. in Philosophy fresh in hand, I was trying to decide between law school and a Masters in Bioethics. But there was, it seems, another plan for me.
The private curse had to do with a genetic malformation. A mutation on the white blood cells. The CD-20 protein gone awry. In '87, they called it "abnormal cell structure suggestive of lymphoma." Later, they said it was Stage 4 Non-Hodgkin's lymphoma. "With bone marrow involvement," they added after the bone marrow biopsy. Stage 5 means
Make sure your affairs are in order
. Stage 4 gives you a chance of survival, if the treatments don't kill you, first.
Treatment worked. Quite well, in fact. . .
Read Full Story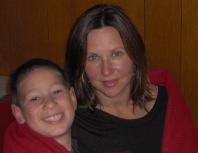 Note: Stephanie Silvia was born in Brooklyn, where she taught public school after years of directing Stephanie Silvia: NORTH/SOUTH Dance, a modern dance company in New York City. She received an MFA from the University of North Carolina at Greensboro and attended school in Boston and San Francisco.
Her poetry, reviews and articles have been published in the Northcoast Journal (Eureka, CA), College of the Redwoods Writers and Poets, The Cherry Blossom Review, elephant, and in the anthology, Women.Period. (Spinster's Ink Press). Stephanie is a student of Diane di Prima and member of Amazon Writers of the Humboldt County Breast Health Project.

I wear black boots today

by Stephanie Silvia
I wear black boots today
and a black skirt

Black tights (for the lymphodema)

I've slept in this tee shirt and
bra for three nights now

switching into different
oversweaters
each morning

it's cold in the house
(afraid to let my nipples
taste the cold air)

afraid to buy bigger jeans . . . Read Full Poem

LIFE CONSTRICTED
To Love, Hugs and Laughter

by Gerald Green

Reviewed by Nancy McKay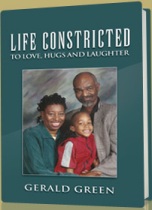 Gerald Green has written a brave book. "LIFE" takes courage. Life with cancer takes courage. Constriction may or may not squeeze out courage. This reader smiled as Green turned the constrictions of life with cancer upside down and on their head to discover love, hugs, and laughter.

Through three different diagnoses, Gerald learned that he was not his nickname, a "Tinman," without a heart. This is a book with heart. "At sixty, I have survived tongue and neck cancer for fourteen years with no guarantees, just daily opportunities to share love. Now prostrate cancer has provided yet another thread to weave into my life's fabric. Isn't the third time a charm?"

Gerald is also a man with scars. Scar tissue has replaced the tumor in his tongue, and still he can talk and enjoy good food. The scar where neck cancer was removed both gives him daily background pain and sometimes worse, and still it gives him pleasure to see it in the mirror. "I get joy from looking at it and think of the consequence of not having a metastasized tumor discovered. Between the two scars, which one would I trade in? Neither. I have grown with these pains; they are part of who I am. The scars blessed me with another day!"

Gerald writes, "Jim Crow laws didn't stop my grandfather from teaching me fairness . . . and segregated schools enabled my longing for knowledge." Now in raising his son and in giving back to the community through volunteering, he furthers his grandfather's purpose: strong and healed black men. Gerald Green knows many kinds of healing.
To learn more about this book, read an excerpt, or to purchase it, please visit www.lifeconstricted.com.

If you would like to update your Email Information, please click here.
Your donations to Healing Journeys help keep our Cancer as a Turning Point conferences free of charge for those who attend.

Please make a tax deductible donation today to support Healing Journeys and those who need the services we offer.


---
*** UPCOMING EVENTS ***

Continuing Education Available
October 9 & 10

Register now!
---


The Cancer-Fighting Kitchen

New Live Workshop
with
Rebecca Katz
and
Jeanne Wallace


November 5, 2010
Napa, CA
The Cancer-Fighting Kitchen recorded March 19, 2010
at Santa Cruz, CA Workshop.
---
Featured Product of the Month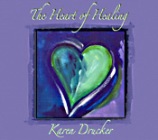 The Heart of Healing


by Karen Drucker
$15.00

---
Visit our channel:



---
Using our Amazon Associate link benefits Healing Journeys.
---
Tell a Friend
---
Your donations to Healing Journeys help keep our Cancer as a Turning Point conferences free of charge for those who attend.

Please make a tax deductible donation today to support Healing Journeys and those who need the services we offer.


---