In this issue:

Director's Reflections - by Jan Adrian, MSW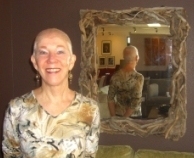 Dear Friends,

In the past twenty years, I've had three primary cancers, several recurrences, and I've done a variety of treatments. People have often called me courageous, and I haven't felt very courageous. I felt I didn't have any choice but to respond in the best way I knew how to what was happening to me.

When I had chemo and lost most of my hair 20 years ago, it wasn't my choice and it didn't require courage. It just happened. Now, Patty Wooten, my friend of 25 years, has started at least 6 months of intense chemotherapy for lymphoma. She has lost her hair. As a symbol of my support of her healing journey, I decided to get a "sympathy shave."

It was a truly difficult decision. A few days before I was scheduled to do it, I thought I couldn't go through with it. I thought I would be ugly and people would think I was either sick or strange. My red hair has defined me all my life and I've learned to love it. Who will I be without it?

Then I realized that was vanity talking. Choosing to do it in spite of feeling like that is what courage feels like. How could I pass up an opportunity to experience courage?

When I told my son what I was thinking of doing, he said, "how exciting!" He thinks life is here for us to have a variety of experiences, and this would be a new experience for me. I agree with that idea, but when it comes right down to it, I don't like change and I prefer staying in my comfort zone.

Life has often pushed me out of my comfort zone, and now I had the opportunity to make a conscious jump — another "leap of faith." Since I believe I am a spiritual being on a human path, how could my red hair define me?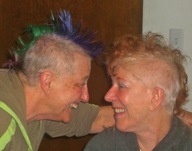 I'm so much more than this physical body. Getting rid of the hair that I thought defined me could open me up to a new and deeper spiritual awareness. My son was right — how exciting!

Patty had a wild Mohawk hairdo for a week before her hair fell out. She shaved my head on Halloween and here is a picture of us during my transformation.

In the spirit of healing,


Jan Adrian, MSW
Founder and Executive Director
www.healingjourneys.org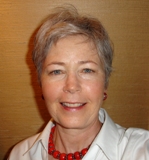 Note: Sybil Shane lives in Grass Valley, California. She wants to give back to the cancer community and it is with gratitude that she is offering 20% of product sales to Healing Journeys. Go to her website by clicking here, or on the icon or link in the sidebar on the right.

Below is one of her prints, Travelers on the Path, which is also the title of this month's Healing Story.




Travelers on the Path
by Sybil Shane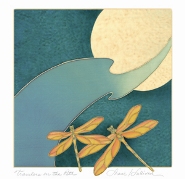 When I picked my mother up at the Sacramento airport, my brother brought her to the car in a wheelchair. I looked at her grey face. "She's dying," I thought. She had been diagnosed with pancreatic cancer and the doctor said she didn't have long to live. My brother and I got her settled, and then drove her to Lake Tahoe to see the beauty there, and also to pursue some alternative treatments.

The first week, looking frail and wan, she would eat just a bite or two, not even leaving her Lazy Boy. The next week, I saw some color coming into her face, and she began joining us for meals at the dining room table. By the end of the third week, she looked vibrant, and cooked one of our favorite Southern dinners—collard greens, black-eyed peas and rice.... Full Story.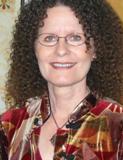 Note: Parthenia Hicks is a freelance writer and editor with a Masters of Divinity in Kriya Yoga. She is the recipient of two Pushcart nominations for her short stories, Fire and Miss Lady, the Villa Montalvo Poetry prize and most recently, the 2007 Robinson Jeffers Tor House Poetry Prize.

She teaches © Dreaming into Writing workshops and other writing classes and retreats when and where she can—most recently, Rumi's Call and Response, a workshop for writers and non-writers who want to explore their spirituality through writing in a safe environment. Parthenia served on the Healing Journeys Board of Directors from 1997 to 2003 and cherishes that experience as a gift that provided insight into health and healing and their connection to the richness of community, art and story.

Bay Area Rapid Transit was originally published in The Montserrat Review, issue #7.



Bay Area Rapid Transit
by Parthenia M. Hicks


You said
I wish everyone in the world
would get down on their knees

I didn't want to hear
dismissed your fretted voice
its jagged edges
hooking where they could
you saw me look away
open my umbrella, hide . . . Full Poem.



Our Culture on the Couch: Seven Steps to Global Healing
by Emmett Miller, MD

Reviewed by Lloyd Barde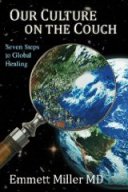 In Dr. Miller's latest and most comprehensive book, he has assembled an amazing compendium of facts, resources, illustrated reflections and creative suggestions for healing our world. By examining where we are, how we got here, and in what direction we absolutely need to turn, this truly enjoyable book is like a mosaic of modern modalities for healing our world, inside and out.

Dr. Miller's life and work have been an ongoing process of awakening to certain eternal truths about life and humanity. In many respects, he co-founded the fields of Holistic Health and Mind/Body Medicine in the '70's. Our Culture on the Couch is written for those who are also awakening, or who are ready to begin waking up to the fact that we must go beyond the limitations of the past and create a sustainable, just, and peaceful future.

In this 375 page book, Dr. Miller performs a thorough examination of the symptoms displayed by his planetary patient, arriving at a diagnoses for the serious ailments that currently threaten our civilization. But, surprisingly, the prognosis is not necessarily dire. Despite the litany of problems we face — personal fear, illness and depression; violence; political and corporate corruption; terrorism; environmental devastation — Miller finds underlying causes that he believes can be successfully treated.

Applying a systems approach, he examines and helps to navigate cultural denial and global malaise. He discovers fundamental principles at the base of the majority of these problems and recommends a treatment plan that involves applying these principles at every level of system (personal, family, community, cultural, national and global ecosystem).

Dr. Miller has combined and integrated his experience and extraordinary talents as clinician, teacher, physicist, group leader and community activist with his basic nature of equal parts compassion (heart) and wisdom (intellect).

His approach to storytelling, personal revelation and the way he interjects ample doses of humor becomes an "action-packed" book that is as relatable as it is profound. The time and care put into this writing is clear from the beginning, and 100 pictures, graphs and topical cartoons add to it considerably.

Insightful, practical, engaging, and thought-provoking, Our Culture on the Couch is a valuable addition to any library, and will prove to be a lasting commentary on both life as we know it now, as well as how living on the Earth can be more fully actualized.

The Seven Steps are as follows; each one is taken apart and put back together beautifully!
Presence
Awareness
Letting Go
Accessing Power from Within
Visioning the "Law of Attraction"
Connecting: Expanding the Circle
Staying on Course: Feedback and Feedforward
Additional information:
If you purchase this book, we'd so appreciate it if you would use our Amazon Associate link, below, or in the bottom left navigation on our website. Your price will be the same, and Healing Journeys will receive a small percentage of the sale. Every bit helps! Whenever you are buying anything from Amazon (books, CDs, even TVs and appliances), we benefit if you first go to www.healingjourneys.org, click on the Amazon link, and make your purchase.

Tell a friend about Healing Journeys.

If you would like to update your Email Information, please click here.
In this Thanksgiving season, we are most thankful for you!

*** HOLIDAY GEMS ***
that benefit Healing Journeys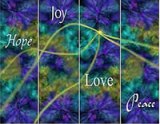 Greeting Cards

On sale!


---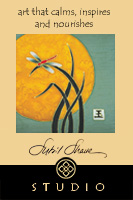 Sybil Shane Studio

20% of purchases through
the associate link above
will be donated to
Healing Journeys.


---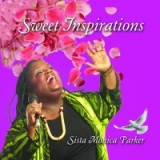 Sista Monica:
Sweet Inspirations

Thank you Sista Monica for your generous support of Healing Journeys.


---



Purchases through the associate link above benefit Healing Journeys.
---

Tell a Friend
---
---