In this issue:

Director's Reflections - by Jan Adrian, MSW


Dear Friends,

I recently heard a speaker say that we are each given some gifts and talents to be used during our lifetime. The ideal scene when we die is to arrive on the "other side" with our container empty because we used all of our gifts and talents during our lifetimes.

I think my friend, Robin, must have arrived empty-handed when she died last year, because I witnessed her use herself fully. Robin was a quiet, inquisitive, unassuming person who didn't want to be the center of attention.

When she was diagnosed with cancer and trying to learn everything she could, she listened to the CD set of some of the past Cancer as a Turning Point, From Surviving to Thriving conference presentations. Wanting others in her community to experience the powerful and inspiring messages, she called me to ask what it would take to have a conference in Greenville, SC.

Robin didn't see herself as powerful and she didn't want to speak in front of groups, but one by one she asked people in Greenville to be on a steering committee to help bring the conference to Greenville, SC. Most of you know the rest of this story because it's history. The Healing Journeys conference has been offered in Greenville three times now and has reached almost 2,000 people—all because of Robin's dream.

Robin told me before she died that one thing she had learned by this experience was that you can never say that one person can't make a difference. She was as impressed as everyone else that she planted and nurtured the seed that grew into a Greenville conference.

She focused on her mission without wondering what others might think. And she didn't allow herself to be controlled by her insecurities. Everyone feels insecure occasionally, but if we wallow there, it can prevent us from fulfilling our potential.

Robin continues to be an inspiration to me. I've heard people say, "She had a smile that could light up a room." And recently I thought, "But don't we all have smiles that can light up a room?" And how often do I pass up an opportunity to extend that light because I'm insecure or afraid or
self-conscious?

I want to be more mindful of the "gifts" I have and not be too busy or afraid to use them. When another friend was recently diagnosed with cancer, I realized I have the "gift" of bringing her comfort and lessening her stress just by accompanying her to her doctor's appointment.

I have often prayed the prayer of St. Francis, "Lord, make me an instrument..." Life continually presents me with answers to that prayer. My desire is to be awake enough to notice them, trusting enough to follow my intuition, and grateful for the chance to be "played."

Thank you, Robin, for the lessons, the inspiration, and the love I continue to receive from you.


In the spirit of healing,


Jan Adrian, MSW
Founder and Executive Director




About To Leave The Earth


by Mark Nepo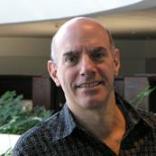 Note: Mark Nepo is a poet, philosopher and cancer survivor who has taught in the fields of poetry and spirituality for over thirty years. About to Leave the Earth is from a new book of stories, As Far As the Heart Can See.

We've also included a poem of Mark's, This Poem Should Be a Circle, from a new book in progress, Just Keep Working, Said the Storm to the Leaf. Please visit www.MarkNepo.com.

We were waiting in the airport food court. It was early and he was sitting by himself stirring his coffee. I could hear the wooden stick against the styrofoam. He had a hitch of sudden pain. It was then I saw the growth like a softball on his right shoulder. There were only a few of us, waiting for security; trying to wake up before being carried from the earth.

Maybe it was being half-conscious, almost removed for a while from our lives, quietly chewing like chipmunks before dawn. But he started telling his story as if we all knew each other. He was dying and it only seemed frightening when he kept it to himself, "The damn thing is too close to my spine to operate, so I've just got to wait." Then he laughed, "But hey, we've had a lot a' practice at waitin' eh?"... Full Story.



This Poem Should Be a Circle


I wish you the ability to breathe
after pain, to begin again, though
nothing else seems possible.

I wish you resilience: to part like
the ocean and accept like the sky,
to be held like a root.

I wish you survival: to take in life
like a trapped miner finding an
airhole and praising it as God. . . . Full Poem.




One Bite at a Time
by Rebecca Katz

Reviewed by Shariann Tom



Rebecca Katz understands the plight of cancer patients. In her quest to help others in their cancer journey, she has created One Bite at a Time — Nourishing Recipes for Cancer Survivors and Their Friends, a cookbook and guide for making delicious and nutritious food for the food-challenged. This book provided me with tips and secrets (Rebecca calls them FASS - Fatty, Acid, Salt, Sweet) to make me feel like a "chef" creating truly tasty foods that I enjoyed eating from the first bite.

Taste is everything. As Rebecca says, "You only have one chance with a cancer patient, if the first bite isn't good enough they won't eat anymore." Her simple and easy-to-follow recipes are surprising, filled with flavor for those with compromised taste buds and packed with "good for your health" ingredients.

Her Magic Mineral Broth is scrumptious and a staple; I even made this for my daughter when she had the flu. The Tortilla Stack with Salsa Cruda is a nice breakfast option, filled with protein and fresh and tasty flavors. It's a mouth-awakening surprise in the morning.

I found the Pantry Rehabilitation chapter extremely helpful and a great starting point for anyone ready to change the way they eat for health and healing. This cookbook and guide is most useful for anyone facing cancer because we have such strong motivation to improve our health. It is also an ideal staple for the kitchen of anyone wanting to have a healthier diet.

Additional information:


Healing Journeys is pleased to present a one-day workshop with Rebecca Katz, MS and Bidyut (BK) Bose, PhD, The Cancer-Fighting Kitchen and Healing Yoga, on September 12, in Sacramento, CA. Register by August 14 for the early-bird registration discount.



If you purchase this book, we'd appreciate it if you would use our Amazon Associate link, in the bottom left navigation on our website. Your price will be the same, and Healing Journeys will receive a small percentage of the sale. Every bit helps! Whenever you are buying anything from Amazon (books, CDs, even TVs and appliances), we benefit if you first go to www.healingjourneys.org, click on the Amazon link, and make your purchase.
If you would like to update your Email Information, please click here.
UPCOMING EVENTS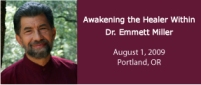 Awakening the Healer Within
Dr. Emmett Miller

August 1, 2009
Portland, OR

More Information

Comments from a previous workshop:

"Absolutely wonderful experience. I now have the tools to practice letting go." "Emmett Miller was very well informed and also very entertaining."
---
Early Registration Discount!
Register by August 14




The Cancer-Fighting Kitchen
and
Healing Yoga

September 12, 2009
Sacramento, CA

More Information


---

Cancer as a Turning Point, From Surviving to ThrivingTM

1-Day Conference
October 3, 2009

Seattle area, WA

Details coming soon!


---

CDs from the Greenville 2009 Conference


---