In this issue:

Director's Reflections - by Jan Adrian, MSW


Dear Friends,

The last month of preparing for one of our conferences often reminds me of being in labor before the birth of my son. I think to myself, "This is too much work and too stressful; I'll never do this again." And then the conference happens and I see the beautiful "baby." How could I not do it again when the results of my "labor" are so significant and life-changing for so many people?

The first weekend in June, at our conference in Greenville, SC, I was again awestruck by how much healing can happen in only two days. One participant said:
Thank you for providing such an uplifting, positive, informative day. I had been overwhelmed after four years of keeping calm and stable through my husband's cancer. Today, I laughed, smiled, learned, and felt rejuvenated again. You make a profound difference and we thank you!
Another emailed me after the conference, saying:
This conference came just as I was recovering from radiation treatments through mid-May following surgery in early March. Frankly, at first I wasn't too sure whether it was a good idea to surround myself with the disease for two days; however, the weekend conference far exceeded my expectations.

The variety of topics, opportunities to network, and resources available from sponsors were helpful as well as healing. I was taken aback by the restorative atmosphere of the weekend. A number of friends were praying that the conference would be helpful as I turn the corner from "patient" to "survivor," and those prayers were answered many times over.
And one of our presenters said:
Thank you again for allowing me to participate in the Healing Journeys conference. I've received several notes from people who attended who spoke of the joy they felt and how powerful the music and entire conference was for them. My mom, who never talks about her cancer journey, now sees it as a shared experience to be honored, not forgotten.
Our vision at Healing Journeys is that everyone touched by cancer or any life-altering illness be empowered to move from surviving to thriving. I just saw that happen for over 400 people in Greenville and of course some of it always rubs off on me. I am nurtured by the content of the program as well as by my connections with the beautiful people who are there with open hearts and eyes shining with their love of life.

In Greenville, I especially felt encouraged by the incredible local steering committee who worked so hard to bring this significant event to their community. Their dedication and commitment are an inspiration to me.

Just a little more rest and I'll be ready to do it again.



In the spirit of healing,


Jan Adrian, MSW
Founder and Executive Director

P.S. You can order CDs of some of the awesome speakers at the conference from our website.


I've Nothin' To Do
by Douglas Beckstein


Note: I've Nothin' To Do is from Semicolon, Doug's book that is part memoir and part how-to-survive-and-then-thrive with colon cancer. We've also included a poem by Doug, Waiting. His website is: Semicolon.com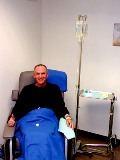 I opened my eyes and saw my brother, David, napping in the chair in the corner of my hospital room. This was day two after my abdominal resection.

My hair was soaked with sweat. Pain meds worked great, but I had had wild dreams last night. I had no idea what kind of day it was outside the hospital. Food did not appeal. A young doctor making his rounds entered my room. "Good morning, Mr. Beckstein," he said. "What are you reading?"... Full Story.




Waiting


Waiting for an appointment
Waiting for a parking space
Waiting for an elevator

Sitting in a waiting room
Signing another medical form
Looking for my health insurance card
Glancing at magazines that have nothing to do with my life. . . Full Poem.




Deep Healing: The Essence of Mind/Body Medicine
by Emmett E. Miller, M.D.

Reviewed by Ann Lovell




For anyone interested in mind-body medicine and the power of self-healing, Deep Healing, by Dr. Emmett Miller, is a must-read. Written with warmth and humor, Dr. Miller's message empowers and inspires, and awakens within us the miraculous self-healing power of our own minds, hearts, spirits, and bodies.

Deep Healing is a book to be experienced, not just read. At the end of each chapter is a Deep Healing Experiential Workout, giving many effective techniques that support healing on all levels. Topics include: relaxation, guided imagery, self-talk, self-esteem, emotions, healing and medicine, and more.

About Dr. Miller: Emmett Miller, MD, is one of the fathers of Holistic and Mind/Body Medicine, with 25 years of clinical experience in the field. In addition to being a physician, he is also a scientist, musician, and master storyteller, whose multicultural heritage has given him a unique social, medical, and spiritual perspective... Full Bio.

Additional information:


Healing Journeys is pleased to present a one-day workshop with Dr. Miller, Awakening the Healer Within, on August 1st, in Portland, OR. Register by June 30 for the early-bird registration discount.



If you purchase this book, we'd appreciate it if you would use our Amazon Associate link, in the bottom left navigation on our website. Your price will be the same, and Healing Journeys will receive a small percentage of the sale. Every bit helps! Whenever you are buying anything from Amazon (books, CDs, even TVs and appliances), we benefit if you first go to www.healingjourneys.org, click on the Amazon link, and make your purchase.
Forward this to a friend

If you would like to update your Email Information, please click here.
UPCOMING EVENTS

Early Registration Discount!
Register by June 30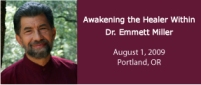 Awakening the Healer Within
Dr. Emmett Miller

August 1, 2009
Portland, OR

More Information
---


The Cancer-Fighting Kitchen
and
Healing Yoga

September 12, 2009
Sacramento, CA

More Information


---

CDs from the Greenville 2009 Conference


---

Forward this to a friend
---