In this issue:
Director's Reflections - by Jan Adrian, MSW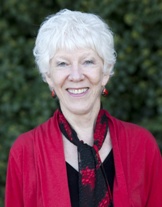 Dear Friends,

The radio in my car is usually set to listen to NPR. About a month ago, when I started my car, the station had been changed (I had been out of town and couldn't get my favorite station). What came on the air was Hawaiian music. My heart melted and ached to be in Hawaii. It has been a place of nurturing and rest for me over the years and I could feel that I needed that again.

I had many logical reasons why I couldn't go to Hawaii this year. Money. Time. My brain and my heart were having a disagreement on this subject. Who's going to win?

While carrying out this inner argument, I remembered several ideas I've read recently. When I get the same message from several unrelated sources, I have learned to pay attention to it.

John Mayfield, in his book Body Intelligence, says that our first feeling about something is our innate intuition. He says we often have an immediate reaction in our body that lasts for only a second or two and if we don't pause and feel that first feeling, it can disappear. In this situation, I had definitely noticed my first feeling. My body wanted to go to Hawaii.

Malcolm Gladwell, in his book blink, talks about an experiment in which they found that the subjects were 30% less likely to solve a problem that required insight or intuition when they were asked to explain the rational reasons for their decisions. In some situations, we are more likely to make good decisions when we don't try to give a rational explanation. He says "that it is possible to know without knowing why we know and accept that — sometimes — we're better off that way."

Both of these authors seemed to be supporting that the heart should trump the head. When I got home that night, I did some research and discovered that one of my favorite places to stay in Kauai was available as a trade for my timeshare condominium. I've been looking for that for about 10 years. It felt like confirmation from the Universe that I should go. I made reservations.

Other parts of the trip have fallen into place with synchronicity and I am going to Kauai in March/April. It's been years since I've taken a vacation and my mind is finally giving up the battle. Rational reasoning isn't what is important here. My heart won this one and I feel like the weight of life's decisions has gotten lighter.

What is often supported in our society is science, research, and rational thinking. If we give rational thinking the final word, at the expense of ignoring our heart's longings, we will suffer. Our bodies will give us stronger and stronger messages until we learn to trust ourselves. What are your feelings about this?

Leave a comment, or read comments left by others.

In the spirit of healing,


Jan Adrian, MSW
Founder and Executive Director
www.healingjourneys.org
The 2011 Healing Journeys events calendar is coming together and will include:
Annan Paterson, author and performer of the one-woman show
Deep Canyon, will be teaching a workshop on Telling Your Healing Story. Two workshops are being held – at the Inn Marin in Novato on May 7 and in the meeting room of Spiritual Life Center in Sacramento on June 11.


Learn more here, and online registration is now open!


Two one-day Cancer as a Turning Point conferences. On Saturday, September 17 we'll be in Napa Valley, CA and in Spartanburg, SC on Saturday, October 1.


The Cancer-Fighting Kitchen workshop will be offered in October and November; dates and locations are being firmed up.
The entire schedule for 2011 will be rolled out in our annual Postal Newsletter coming out in March. Be on the lookout for its delivery in your mailbox!


Also new this month:
Oops - we owe you an apology! We learned last night that there has been a glitch with our Donation Form and ordering from our Online Store. If you've tried to make a donation or order anything recently, and just received an error message, we are truly sorry for your inconvenience. It's all working smoothly now.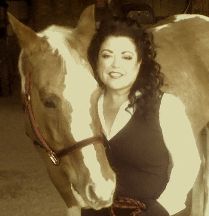 Note: Sheila Heuer lives in Northern California with her husband of 30 years, Kurt, who's a California Highway Patrol Officer. They have two grown children, Kurt Patrick and Jordan Elizabeth, along with a German Shepherd named Nixie.

Sheila owns her own business and also volunteers at Whiskeytown National Recreation Area and with several non-profit organizations.

Besides her volunteer work, she loves to travel the world and spend time with her family, friends, and Cowboy. She invites you to email her here.
A Very Special Horse
by Sheila Heuer
People often ask me how I discovered I had cancer. The answer is simple: a horse.

Like most horse lovers, I fell in love with horses as a little girl. In high school, I worked for a veterinarian and came to care for two horses. Then, when I was 16 years old, a wonderful big thoroughbred I was working with spooked and I got two black eyes, a split lip, and a major headache. It was not the horse's fault, but it would be 30 years before I sat on the back of a horse again. Life got in the way.

Then two years ago, my friend Mike dared me, over and over, to ride again. . . . Read Full Story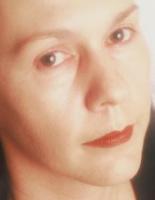 Note: In the summer of 2008, Patricia Reynolds Sorbye was diagnosed with breast cancer, resulting in a lumpectomy, chemo and radiation. Patricia credits hypnotherapy with making the experience easier than it might have been otherwise.

Currently cancer-free, she is a Certified Hypnotherapist, living and practicing in Oakland, California. Patricia's website is Watervox Hypnosis & Hypnotherapy, www.watervox.net.


A Spangled Life
by Patricia Reynolds Sorbye
Before, I had a pocket full of sequins
Small, bright disks of every hue
Endless moments
And wherever I went, I could leave
A generous trail of faceted markers
A spangled path
To anywhere
From anywhere else. . . . Read Full Poem
The Scalpel And The Silver Bear: The First Navajo Woman Surgeon Combines Western Medicine and Traditional Healing
by Lori Arviso Alvord, M.D. and Elizabeth Cohen Van Pelt

Reviewed by Liz Larew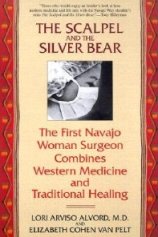 Born of a Caucasian mother and Navajo father, raised on a reservation in a small Navajo community in New Mexico, and educated at Dartmouth and Stanford Universities, Dr. Alvord offers us the story of her life journey, one that leads her to become the first woman Navajo surgeon.

While she describes the obstacles and self-doubt she encounters in navigating the two separate, opposing cultures of her life, Dr. Alvord also shares the blessings and self-discoveries that are offered to her on her journey. In the process, she comes to understand, in heart and mind, that the Navajo's ancient traditional belief in Walking in Beauty — a worldview in which everything in life is connected to and influences everything else — is essential to her practice as a surgeon, and to our healing as individuals and as a world people.

She writes: "Learn to understand the bonds between humans, spirit, and nature. Realize that our illness and our healing alike come from maintaining strong and healthy relationships in every aspect of our lives . . . . People are looking for a better way to have their health needs addressed. They want a medicine that understands their health needs are not separate from the rest of their lives. A medicine that does not isolate but connects. Healing is not only a one-to-one relationship, it is multi-dimensional. At the basis of Navajo philosophies of healing is a concept called Walking in Beauty. It is a way of living a balanced and harmonious life, in touch with all components of one's world. This is a path to better health and healing and life."

Dr. Alvord has woven threads from the two cultures of her life into a powerfully healing/medical practice that benefits many. In sharing her journey, she offers us a pathway . . . a healing treasure.

Additional information:
If you purchase this book, we'd so appreciate it if you would use our Amazon Associate link, below, or in the bottom left navigation on our website. Your price will be the same, and Healing Journeys will receive a small percentage of the sale. Every bit helps! Whenever you are buying anything from Amazon (books, CDs, even TVs and appliances), we benefit if you first go to www.healingjourneys.org, click on the Amazon link, and make your purchase.
If you would like to update your Email Information, please click here.
Honor the ones you love by making a donation in her/his name to
Healing Journeys.
Your donations to Healing Journeys help keep our Cancer as a Turning Point conferences free of charge for those who attend.

Please make a tax deductible donation today to support Healing Journeys and those who need the services we offer.

Safe & Secure!
---

Telling Your Healing Story
Workshop

May 7 — Novato
June 11 — Sacramento

More Information

Register Now!
(space is limited)
---
Click this Amazon icon and Healing Journeys will benefit
by your purchase!




For all other shopping online, click GoodShop first and
Healing Journeys
earns money!

---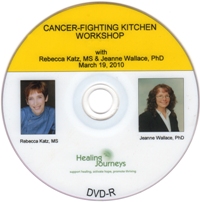 Cancer-Fighting Kitchen DVDs
The Cancer-Fighting Kitchen recorded March 19, 2010
at Santa Cruz, CA Workshop,
with Jeanne Wallace
& Rebecca Katz.

The Cancer-Fighting Kitchen
Question & Answer Session

---

---
Tell a Friend
---
Honor the ones you love by making a donation in her/his name to
Healing Journeys.
Your donations to Healing Journeys help keep our Cancer as a Turning Point conferences free of charge for those who attend.

Please make a tax deductible donation today to support Healing Journeys and those who need the services we offer.

Safe & Secure!
---