In this issue:

Director's Reflections - by Jan Adrian, MSW


Dear Friends,

This is our first monthly eNewsletter and I'm happy that I will have an opportunity to pass along some of the ideas I read and hear that excite me. A few months ago I learned about a researcher who had just interviewed hundreds of people who had experienced spontaneous remissions of cancer.


She said that based on what she had learned from these people, if she had cancer, her main focus would be to increase her happiness.
So, I'd like to share some thoughts about happiness. In November I went to a conference in San Francisco called "Happiness and Its Causes."

A few random gems I came away with from the "experts" about happiness:
Spiritually committed people have a higher degree of happiness.
We can't be happy alone. We need other people in our lives.
Touch is a basic medium of happiness.
In a recent study, people derived greater happiness from spending $20 on someone else than on themselves to indulge some desire.
Compassion seems to be a critical component of happiness.
Happiness is a skill set we can learn and teach our kids. Start by sparking the child's interest in being kind, generous, and compassionate.
Singing makes you feel good.
Happiness is not merely the absence of sadness.
A quote from A New Earth by Eckhart Tolle: "Don't seek happiness. If you seek it, you won't find it, because seeking is the antithesis of happiness. Happiness is ever elusive, but freedom from unhappiness is attainable now by facing what is, rather than making up stories about it. Unhappiness covers up your natural state of well-being and inner peace, the source of true happiness."

I attended the "Happiness" conference looking for information, as well as for new speakers for our future Cancer as a Turning Point™ conferences. I found several great speakers, one of whom will be at our Greenville, SC conference June 6 & 7.

David Feldman, PhD will be speaking on The Power of Hope. If you can't be there to hear him, we will be recording his conference presentation and you may pre-order the CD from our website store here. You might also enjoy reading his article in our last postal Newsletter, and his bio.



In the spirit of healing,


Jan Adrian, MSW
Founder and Executive Director


The Conference That Turned Us
by Amy Webb


Note: This essay was written by Amy Webb about her experience at the Greenville, SC "Cancer as a Turning Point, From Surviving to Thriving" conference in June, 2007.

The week after my lumpectomy I received in the mail a brochure inviting me to a free conference titled "Cancer as a Turning Point...From Surviving to Thriving." As I read through the information, the more intrigued and pulled I felt. The crystal ball was mute for four months hence, but I registered the next day, keeping the brochure on my desk, in plain sight. . . Full Story.

Jan Adrian's Review of "The Journey Through Cancer" by Jeremy Geffen, MD

I wish I would have had Jeremy Geffen's book, The Journey
Through Cancer, when I was diagnosed with breast cancer
20 years ago. Finally, a book on cancer written by a skilled,
knowledgeable, and practicing medical oncologist, from the
perspective of the BIG picture, including all of me — mind,
body, emotions, and spirit.

In leading the reader through his Seven Levels of Healing, Dr. Geffen manages to embrace virtually all aspects of the immensely challenging cancer journey from a perspective of both medical skill and heartfelt compassion.

Another reader said, "Dr. Geffen's powerful book was like magic sprinkled onto our family as we began to face my father's diagnosis of a rare and fatal form of cancer. The author's unique approach to the whole person — physically, emotionally, psychologically and spiritually — helped us to make decisions about treatment, conventional and complementary, as well as to better understand the complex range of emotions we were all feeling."

The Journey Through Cancer is beautifully written and easily read with anecdotal and personal stories. Cancer does not just happen to the patient, it happens to everyone who loves the patient. I heartily recommend this book to anyone facing cancer and to all those who face it with them.

Additional information:


Jeremy Geffen, MD, will be a keynote presenter at the Cancer as a Turning Point conference in Greenville, SC on June 6 & 7, 2009. We will be recording his conference presentation and you may pre-order the CD from our website store here. His presentation on the Seven Levels of Healing is also available on DVD from our Seattle 06 conference here.



Idea for Support Groups — A cancer support group in Bremerton, WA has found it exciting and beneficial to use this book as a centerpiece for their regular meetings. For each session, they all read the same chapter and one of the members prepares and leads a discussion on that chapter.



If you decide to purchase this book, we'd appreciate it if you would use our Amazon Associate link, also available on our website. Your price will be the same, but Healing Journeys will receive a small percentage of the sale, and every bit helps! Whenever you are buying anything from Amazon (books, CDs, even TVs and appliances), we benefit if you first go to www.healingjourneys.org, click on the Amazon link on the left sidebar to enter Amazon, and then make your purchase.
Forward this to a friend

If you would like to update your Email Information, please click here.
UPCOMING EVENTS

Cancer as a Turning Point, From Surviving to Thriving

Carolina First Center
Greenville, SC
June 6 & 7, 2009


---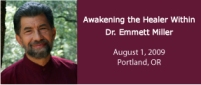 Awakening the Healer Within
Dr. Emmett Miller

August 1, 2009
Portland, OR
More Information
---

The Cancer-Fighting Kitchen
and
Healing Yoga

September 12, 2009
Sacramento, CA
More Information
---
Forward this to a friend
---