by Nancy McKay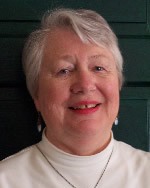 The needle dented and then penetrated my skin high up on the underside of my right arm. The doctor himself administered the first vaccine injection. Being an oncological surgeon as well as a cancer researcher, he knew the high density lymph node neighborhood.
I held onto the promised possibility: we might beat the odds, I might live beyond the prognoses, I might hold grandchildren, I might become an old woman. That's why I had swallowed all those damnable cytoxyn pills. That's why I endured the vomiting for 24 hours and the dehydration that felt like uncontrollable fever.
I had been so excited when we first arrived at the medical complex in San Francisco. A delivery man reached the heavy glass door at the same time. I read the label upside down. This narrow box had my name and Dr. Leong's on it.
"That's for me." The man in the uniform and embroidered name badge looked startled. He was coming late from the lab and was trying to get back on schedule.
"May I see it?" (Mama would be proud of my correct grammar.)
"Uh, sure."
This was a first for him. Who would want to see the hypodermic with their name on it? He lifted off the top and here in a bed of Styrofoam lay the needle. Its cartridge looked full of black ink. Melanoma is black.
"Thank you. I've never seen my melanoma before."
If we had left the cancerous lymph nodes in my body, I would be dying now. Putting it back into me promised a stay of execution, maybe even the C word no one would use: Cure.
When people ask me why I think I did not die on schedule and became a statistical outlier, I answer, "Love, prayer, and good experimental medicine."
"In that order?"
"Yes."
---
Bio: Nancy McKay gives spiritual direction in the progressive Christian tradition. She also practices and teaches Bio-Spirituality through Focusing.
She is a former presenter at the Cancer as a Turning Point, From Surviving to Thriving™ conference and a current Healing Journeys Board Member.